This is the homepage of the Android port of JiShop, a Japanese/English kanji and compound word dictionary.
To install JiShop from our site, you might have to change the settings of your smartphone or tablet. Start Settings, tap on Applications, set a checkmark under "Other sources".
Last update: September 25, 2015. Release 3.10.

See the update history.

JiShop now supports local Android text-to-speech, but see this note.
JiShop is a shareware product - for the first 30 days, it's fully functional, then the database becomes limited to the 1006 characters from the "Gakushū kanji" list. To remove the limitation, please purchase a permanent license.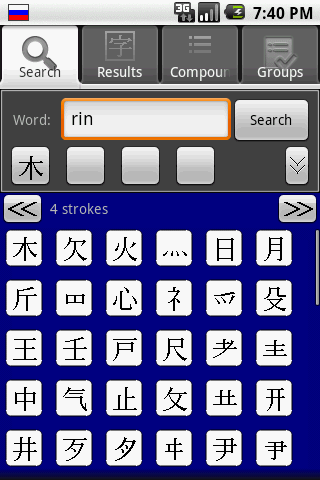 For project updates and feedback, please visit
the JiShop page on Facebook
. Also, we have a mailing list; to subscribe, provide your e-mail in the box below and click the "Subscribe" button.
In this release, the following features are supported (new ones in boldface):
Kanji search

By writing one with your finger
By radicals (up to 4)
By reading (on or kun)
By English meaning (translation)
By stroke count
Using noncanonical decompositions

Compound word search

By kanji (up to 4)
By reading (in kana or in rōmaji)
By English meaning (translation)

Radical table filtering:

By category
By radical interrelationship
By decomposition of a found kanji

Internal hyperlinking
Radical information
Kanji information for lookup elsewhere
Kanji stroke order diagrams
Study groups of kanji and compound words
Drill with multiple choice and score at the end:

Hiragana
Katakana
Kanji
Compound words

Flash cards with kanji and words
Downloading preset groups of kanji
Group import and export:

To/from Dropbox
To nearby devices via WiFi
From JiShop/Windows via SD card
Into text files on the SD card

Offline stroke-order diagrams
Voicing japanese pronunciation (either local or cloud-based)
Interactive kanji decomposition
See also the full manual with screenshots.
The database of JiShop/Android is identical to that of JiShop/Windows.