| | |
| --- | --- |
| JiShop Mobile | Home > JiShop Mobile |
To install JiShop Mobile, download and open the following file:
JiShop Mobile is a Japanese-English kanji and compound word dictionary for Windows Mobile-based devices. As a port of JiShop/Windows, it employs the same dictionary database and shares a good deal of functionality.
Download it here.
Last update: November 28, 2011. Release 3.50.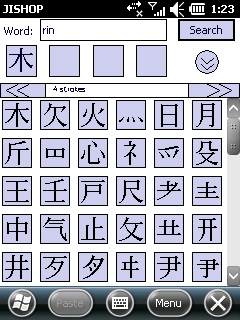 Features
In this release, the following features are supported (new ones in boldface):
Kanji search

By radicals (up to 4)
By reading (on or kun)
By English meaning (translation)
By stroke count
Using noncanonical decompositions

Compound word search

By kanji (up to 4)
By reading (in kana or in rōmaji)
By English meaning (translation)

Internal hyperlinking
Comprehensive radical table navigation
Kanji and radical information
Study groups of kanji
Kanji drill
Hiragana/katakana drill
Preset study groups of kanji for download
Group synchronization with JiShop
Kanji stroke order diagrams
See also the full manual with screenshots.
The database of JiShop Mobile is identical to that of JiShop/Windows. There is no automatic database update functionality yet.
JiShop Mobile is licensed as shareware - you can use it for free for 30 days, then you have to purchase a permanent license. When a new version is released, the trial period is extended by 7 days.
System requirements
JiShop Mobile requires a handheld device (PDA, smartphone) with:
PocketPC 2000+ or Windows Mobile 5+ operating system
Touchscreen
Horizontal resolution of at least 240 pixels