| | |
| --- | --- |
| JiShop/WinPhone | Home > WinPhone |
This is the homepage of the Windows Phone 8 port of JiShop, a Japanese-English kanji and compound word dictionary.
---
Get JiShop for free:


---
Last release: April 10, 2014 version 1.60
(wildcarded search, user-defined notes, etc.)
JiShop is a shareware product - for the first 30 days, it's fully functional, then the database becomes limited to the 1006 characters from the "Gakushū kanji" list. To remove the limitation, please purchase a permanent license.
JiShop requires Windows Phone 8. There will not be a version for Windows Phone 7.x; this has to do with Microsoft's policy of not allowing native code on the latter.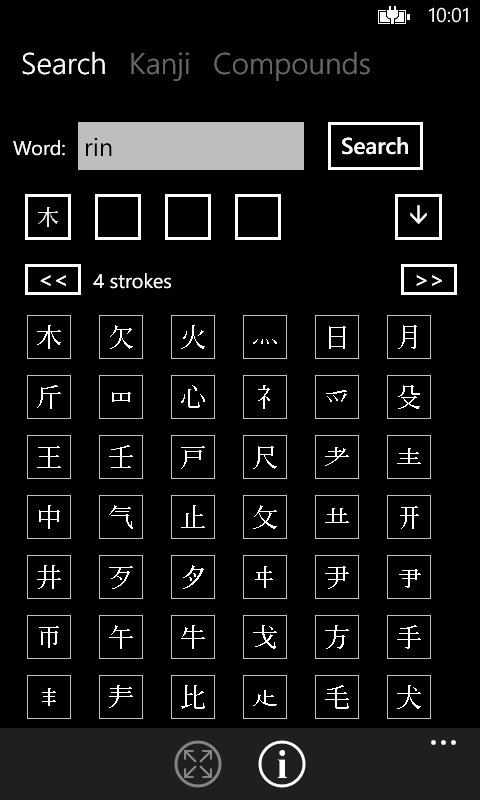 For project updates and feedback, please visit
the JiShop page on Facebook
. Also, we have a mailing list; to subscribe, provide your e-mail in the box below and click on the "Subscribe" button.
In the current release, the following features are supported:
JiPad written input tool
Kanji search

by radicals (up to 4)
by reading (on or kun)
by English meaning (translation)
by stroke count
with non-standard decompositions

Word search

by kanji (up to 4)
by reading (in kana or romaji)
by English meaning (translation)
by reading/meaning with wildcards (added dots)

Radical table filtering:

by radical interrelationship
by decomposition of a found kanji

Internal hyperlinking
Interactive kanji decomposition
Radical info
Kanji information for lookup elsewhere
Kanji stroke order diagrams
Voicing Japanese pronunciation (either local or cloud-based)
Kanji/word/kana drill
Study groups for kanji and words
Group import and export
User-provided notes for kanji entries (in version 1.60)
The database of mobile versions of JiShop is identical to that of JiShop/Windows.